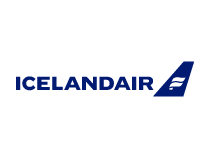 Whether you're looking for serenity in nature or a buzzing city break, Iceland welcomes you – and Icelandair takes you there.
Icelandair's network
Iceland's unique geographical position in the middle of the North Atlantic makes it the ideal hub for a flight network linking Europe with North America and Greenland. Icelandair connects more than 30 European gateways with 15 North American destinations.
The Icelandair Stopover
Transatlantic connections are made at Icelandair's hub airport in Iceland, and travellers are invited to break their journey and explore Iceland for up to 7 days at no additional airfare. The Icelandair Stopover lets passengers explore stunning landscapes of waterfalls, glaciers, volcanos, hiking trails and geothermal pools before they continue their journey. It's a unique way to add a layer of adventure to transatlantic travel.
Icelandair flights
Icelandair offers a range of fare classes and amenities for tailor-made travels. There's a selection of Economy fares for comfort-seeking leisure travellers and budget business travellers. For those looking for some pampering, Saga Premium offers extra comfort and services to ensure a most relaxing and enjoyable flight.
About Icelandair
Operating out of an island in the North Atlantic, Icelandair knows that travel is the lifeblood of the curious mind. The airline pioneered Iceland's air travel in 1937, and the spirit of exploration has been in the company's DNA for over 85 years.